Frank McKinney's "Salacia"
18 February 2018
Frank McKinney's "Salacia" 
 $2.65 Million, Beautifully Furnished
Evoking the essence of Salacia, female divinity of the sea, Frank McKinney has seductively summoned her fiery passion from the depths and splashed it across the sun-drenched canvas at 19 Tropical Drive, Ocean Ridge, Florida.
Click here for a stunning 4k UHD video tour!
Click here for a narrated tour!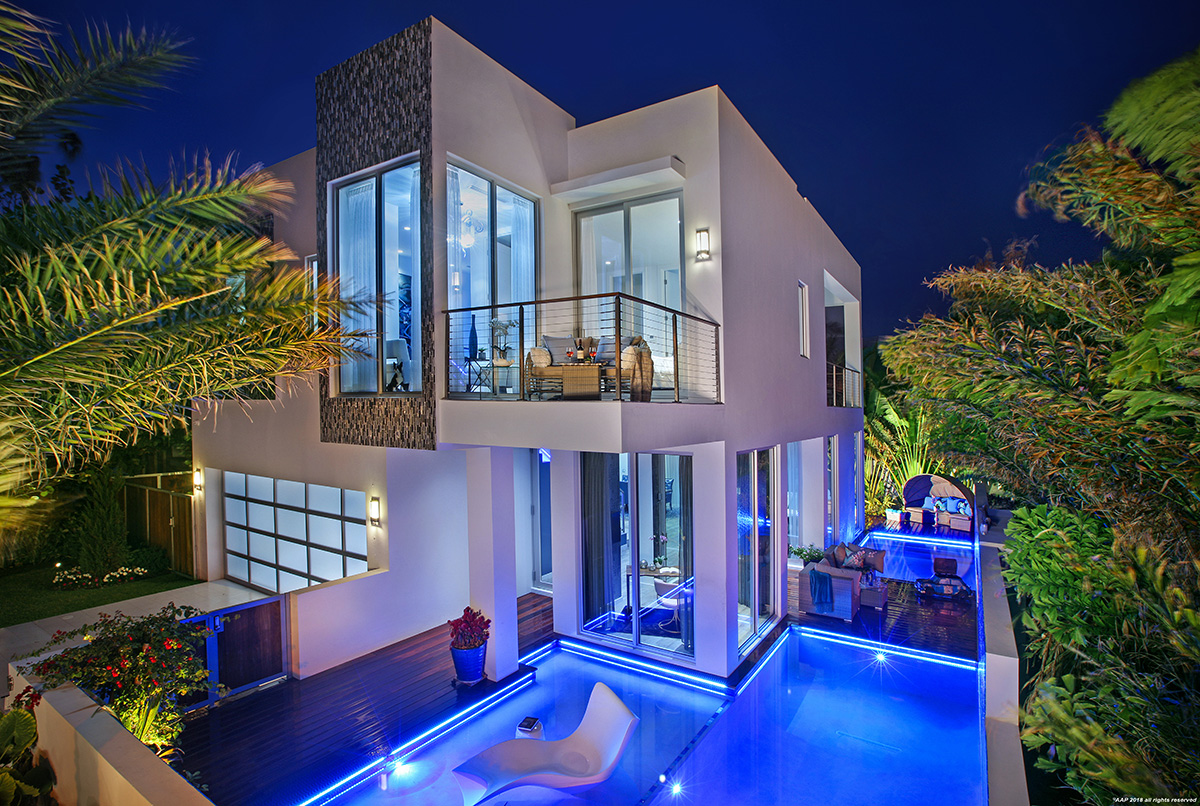 A swirling tonic of evocative oceanscape and harmonious rhythm wash over you as you enter Salacia. This poetic masterpiece engulfs you in the shimmering calm and elusive details found only in the sea.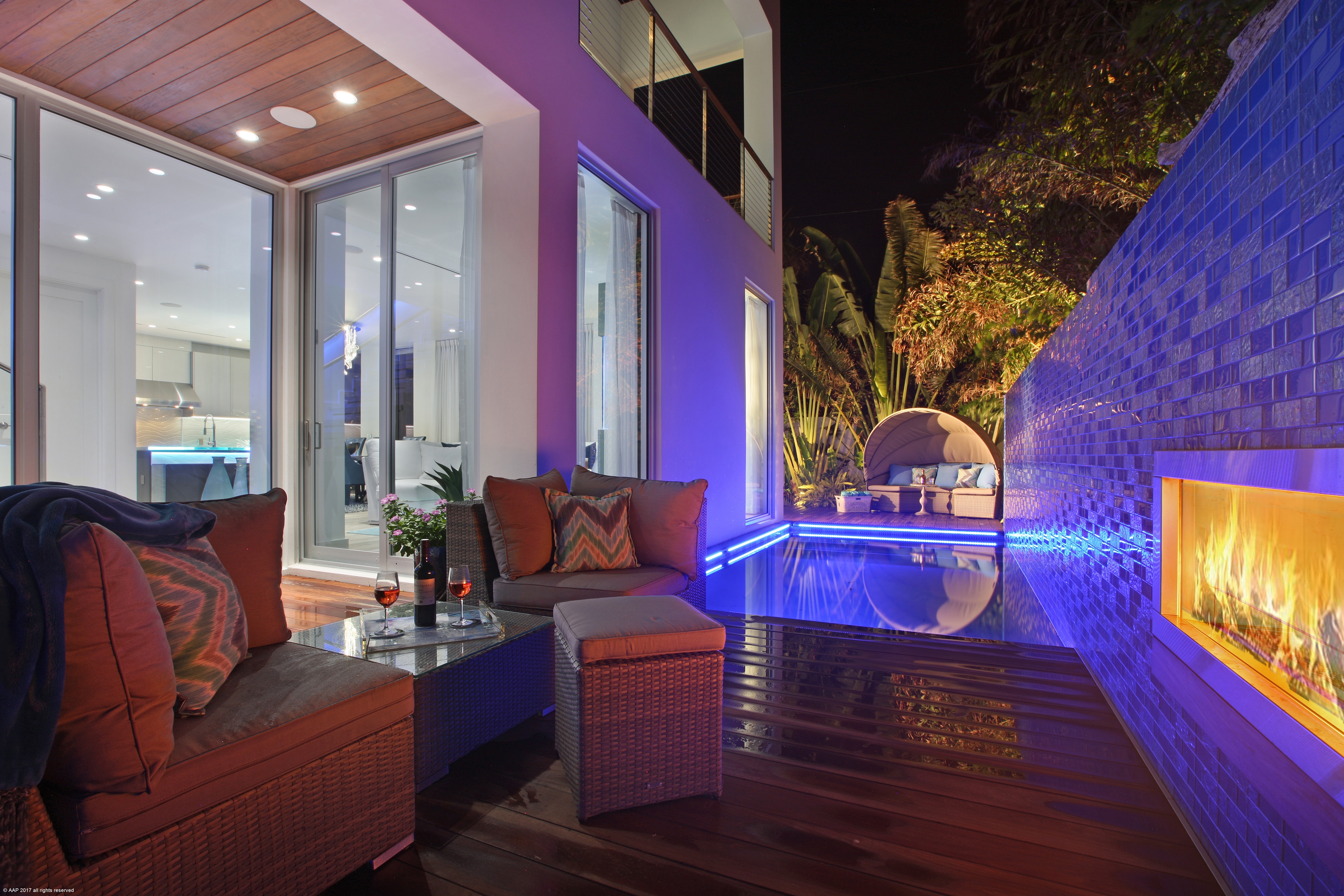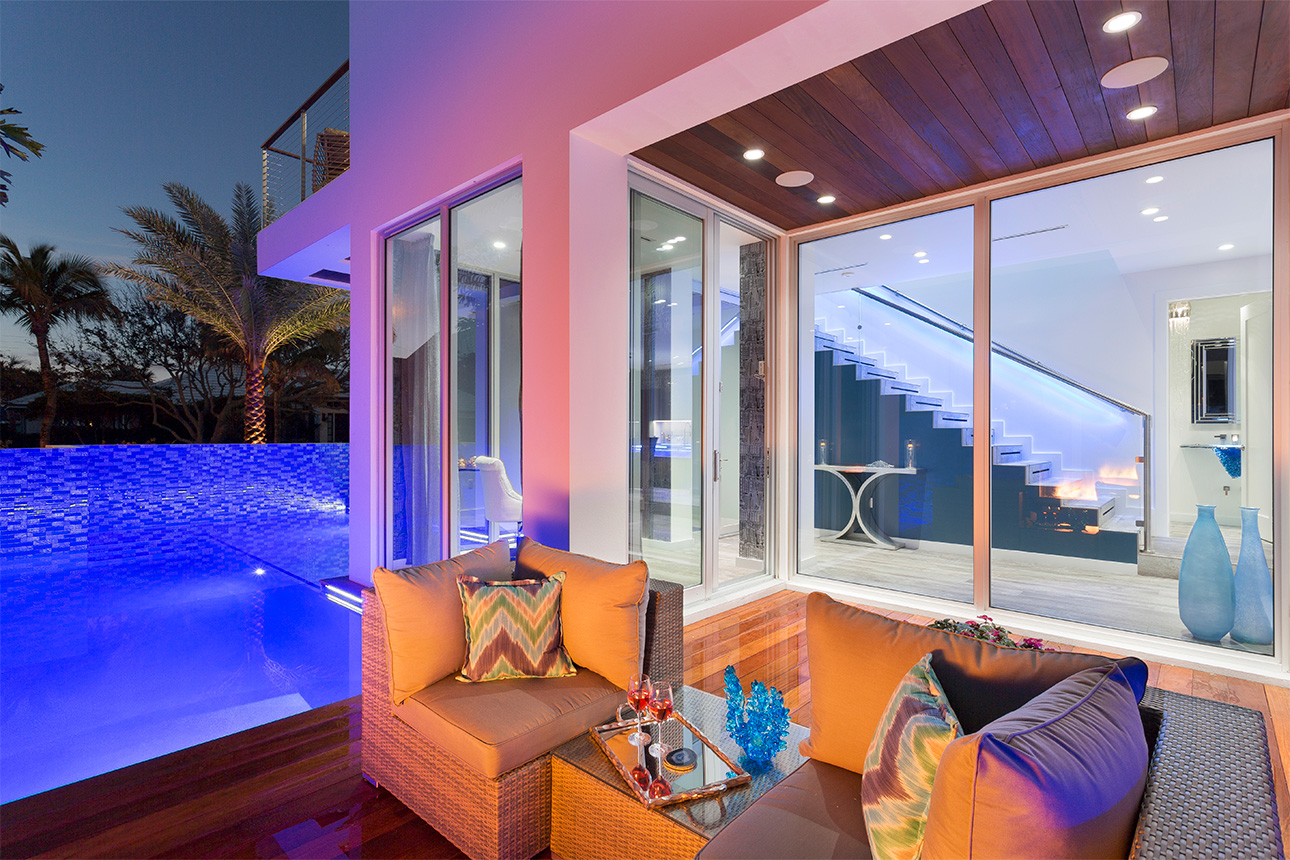 Vicinity to the beach and Atlantic Ocean is desirable and present, a mere 345+/- feet away from the cresting azure blue waves. Effortlessly breathe in the salty air from the outdoor Brazilian hardwood decks as you invite tranquility into your day with peeks of the glistening waters from your second level balcony.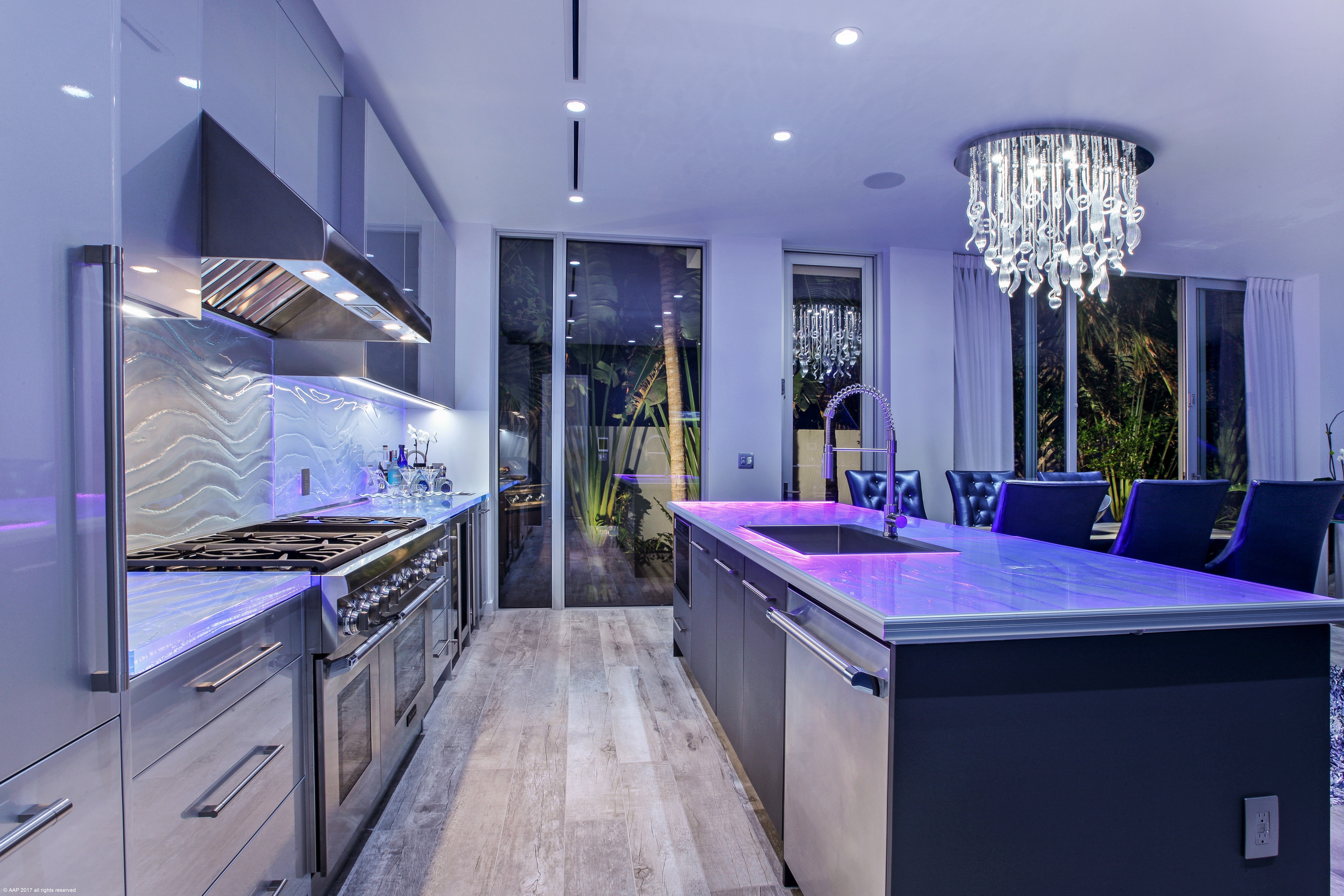 The kitchen countertops won't be found anywhere else, as thousands of pieces of seaglass were harvested from beaches around the world, melted down and placed into a custom mold that resembles the undulating sea bottom sand created by warm Caribbean currents. The countertops are programed to show every color and hue imaginable.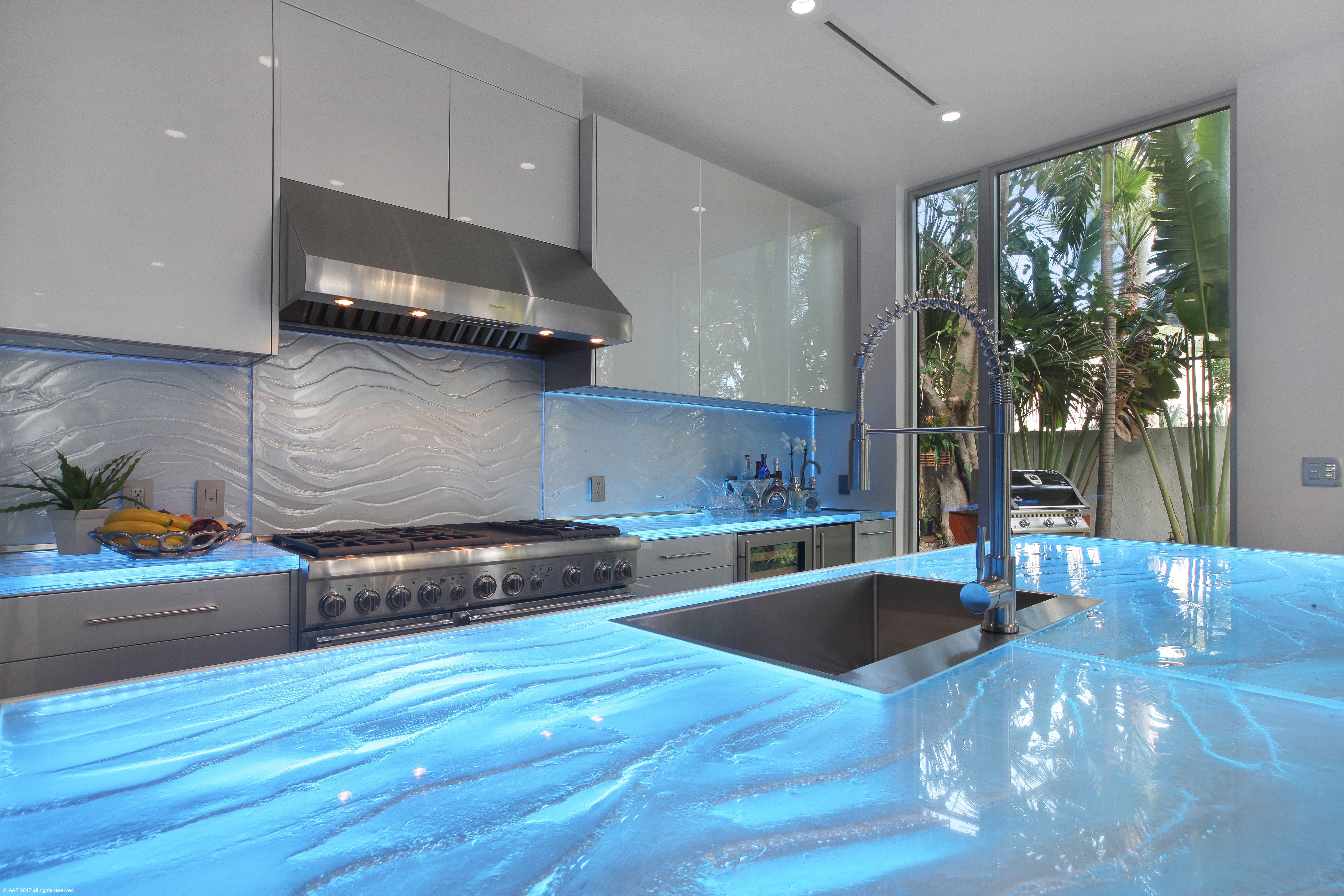 The living reef, with its 38 living creatures, provides alluring entertainment as it glows in a variety of colors. The most enticing feature is the tank's "storm mode."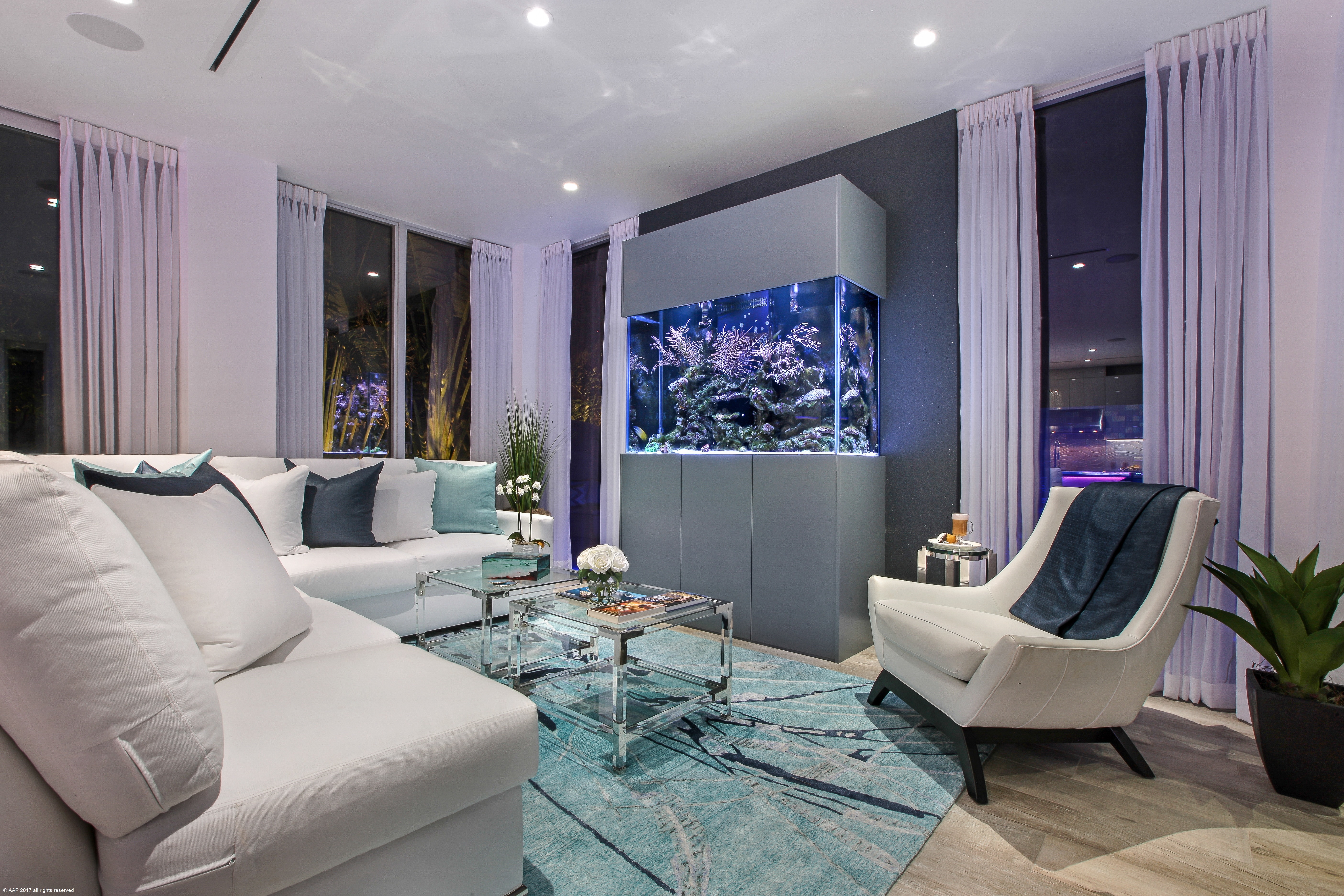 Watch the environment darken as the storm clouds roll in, while intense flashing lights simulate lighting. "It replicates a storm that you'd find in the middle of the ocean," says McKinney.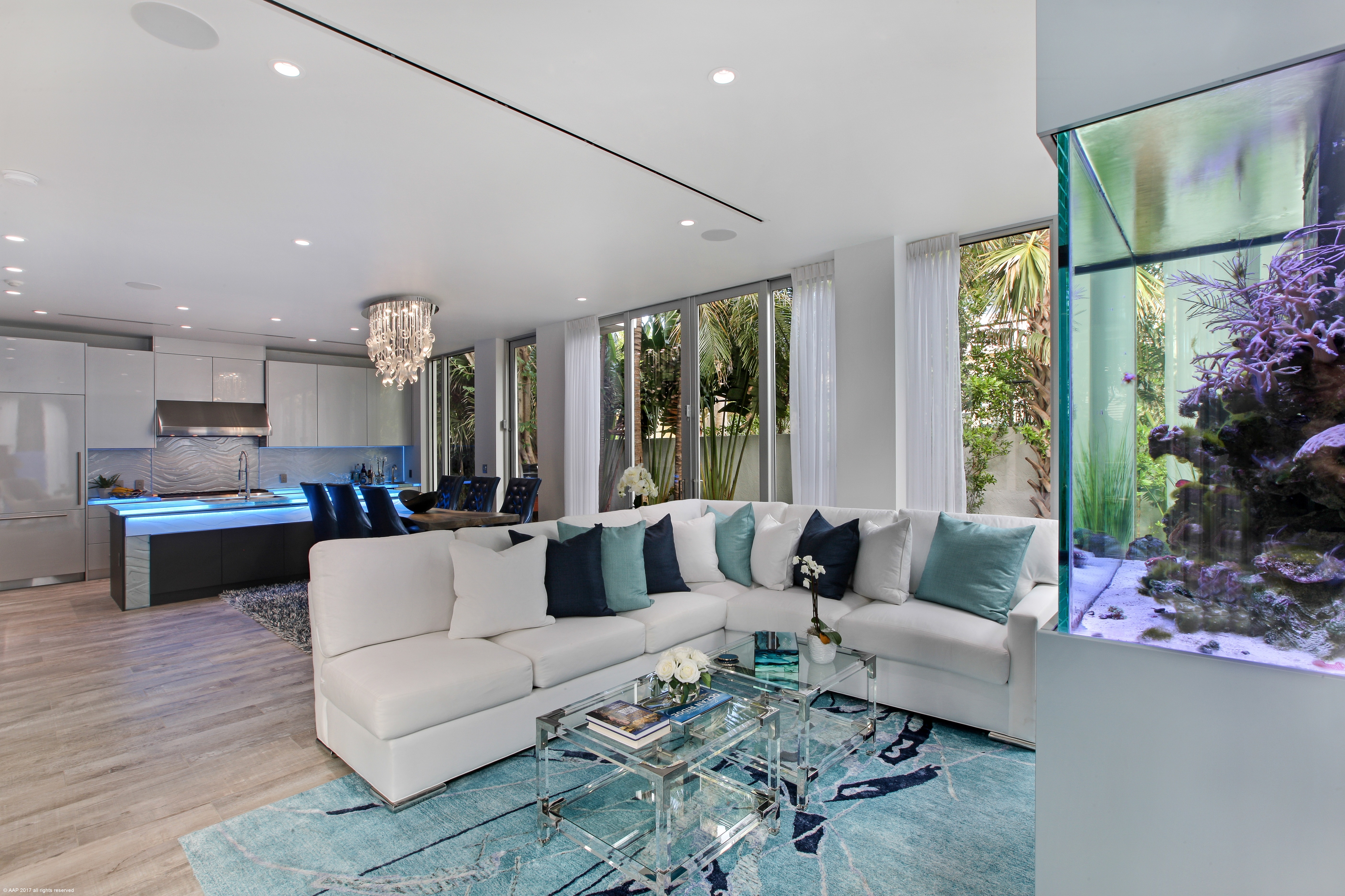 Intoxicate your senses as you experience this sensational home – run your fingertips along the unparalleled seaglass countertops; flex your feet on the lush, white wool deep shag carpeting of the master suite; listen to the pulsating aquarium waters; hypnotize your eyes on the various sea life-esque chandeliers; and feast on epicurean delights in your chef's kitchen.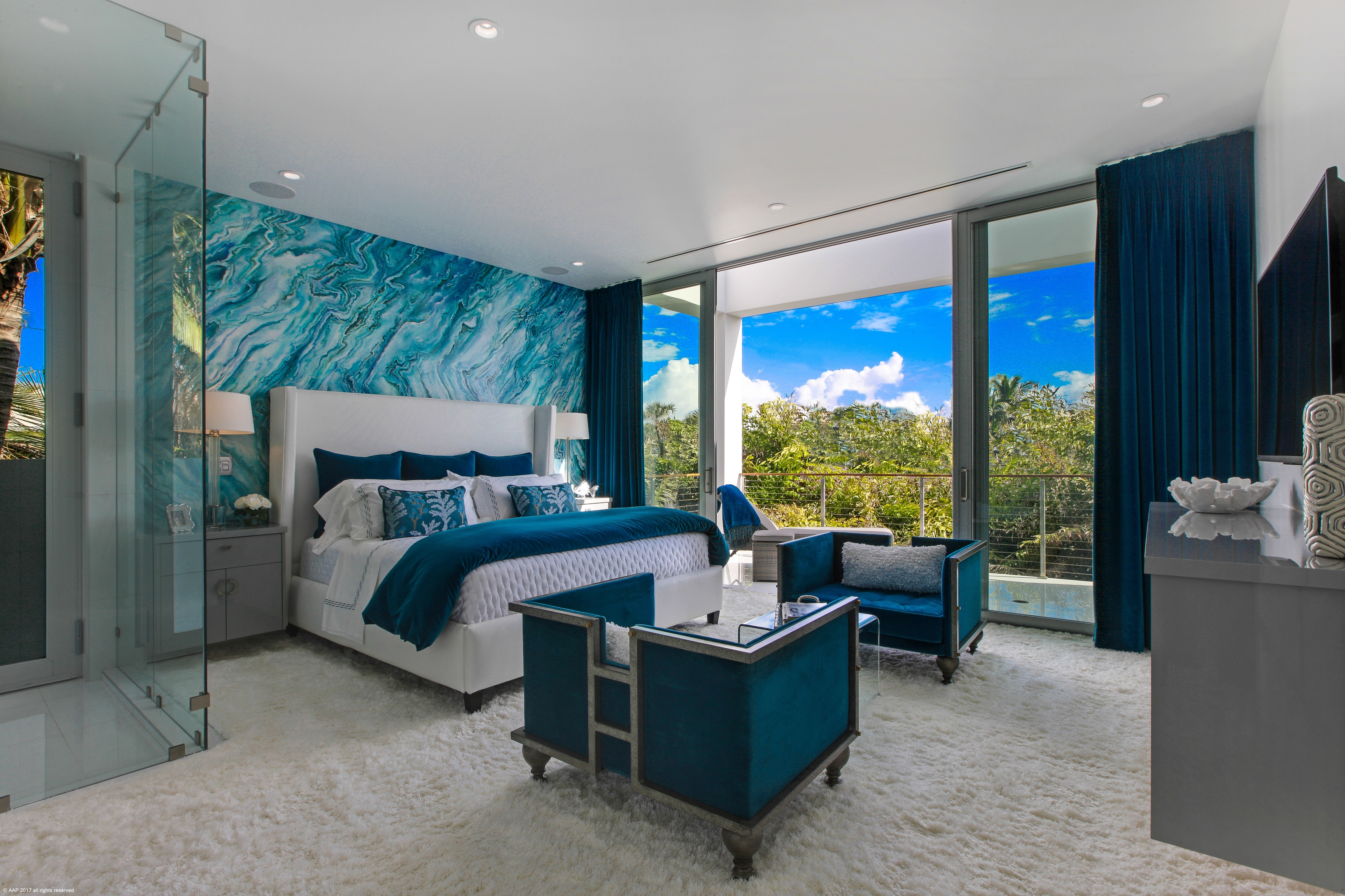 Below please find international media coverage for Salacia.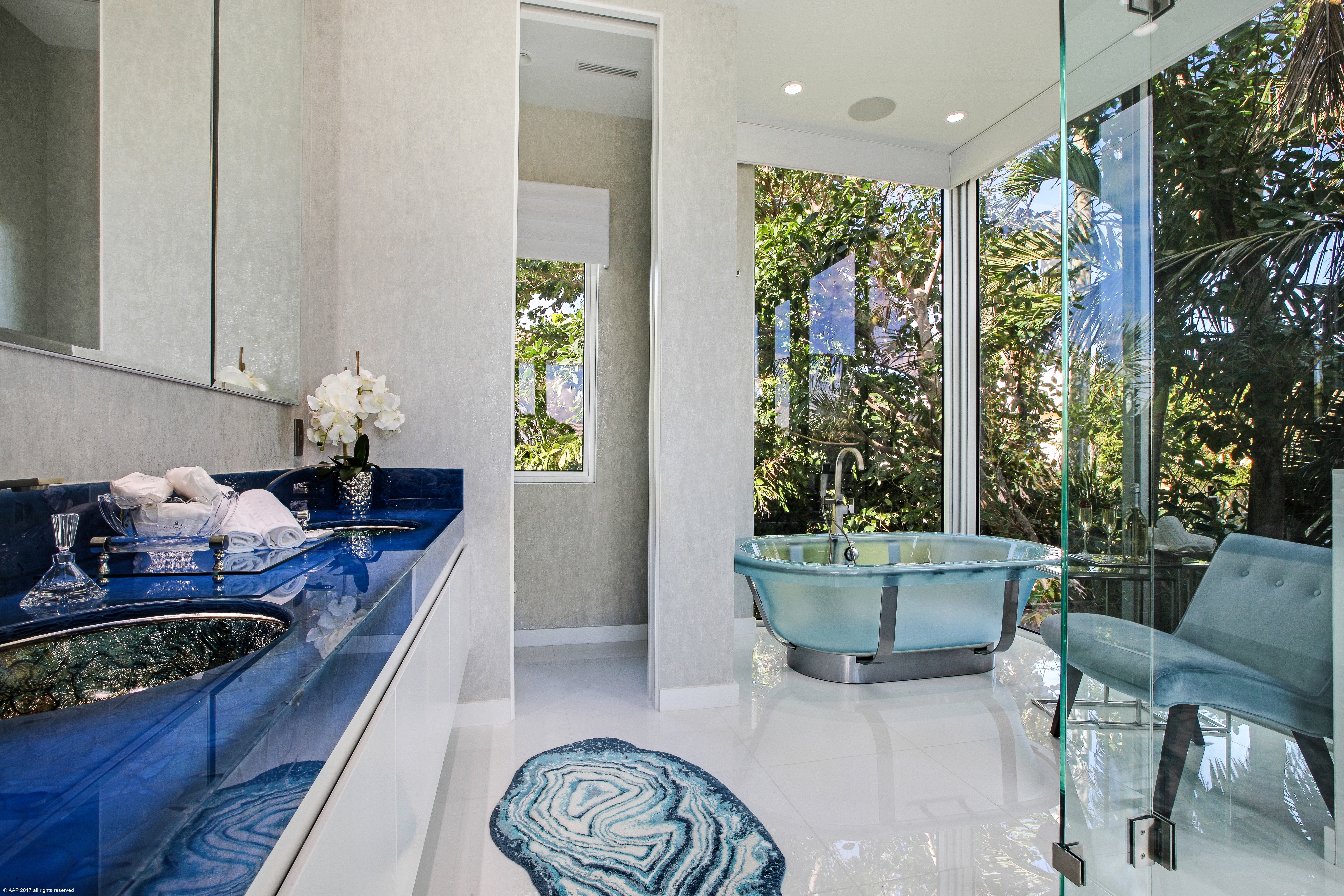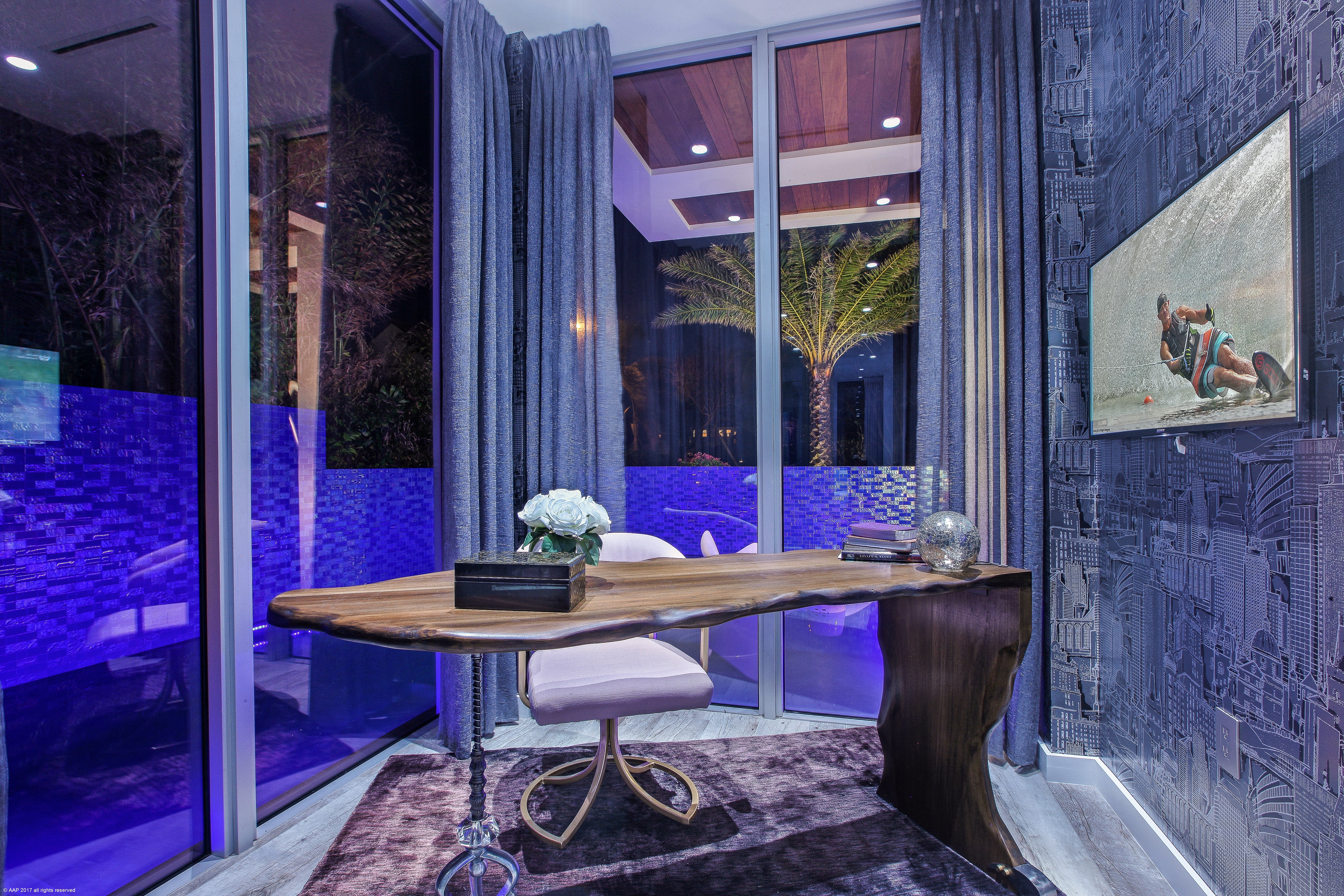 Salacia invites you to experience a 3-dimensional habitable art form. One-of-a-kind, the owner of this creation will possess the essence of the ocean in the most spectacular variety – their home.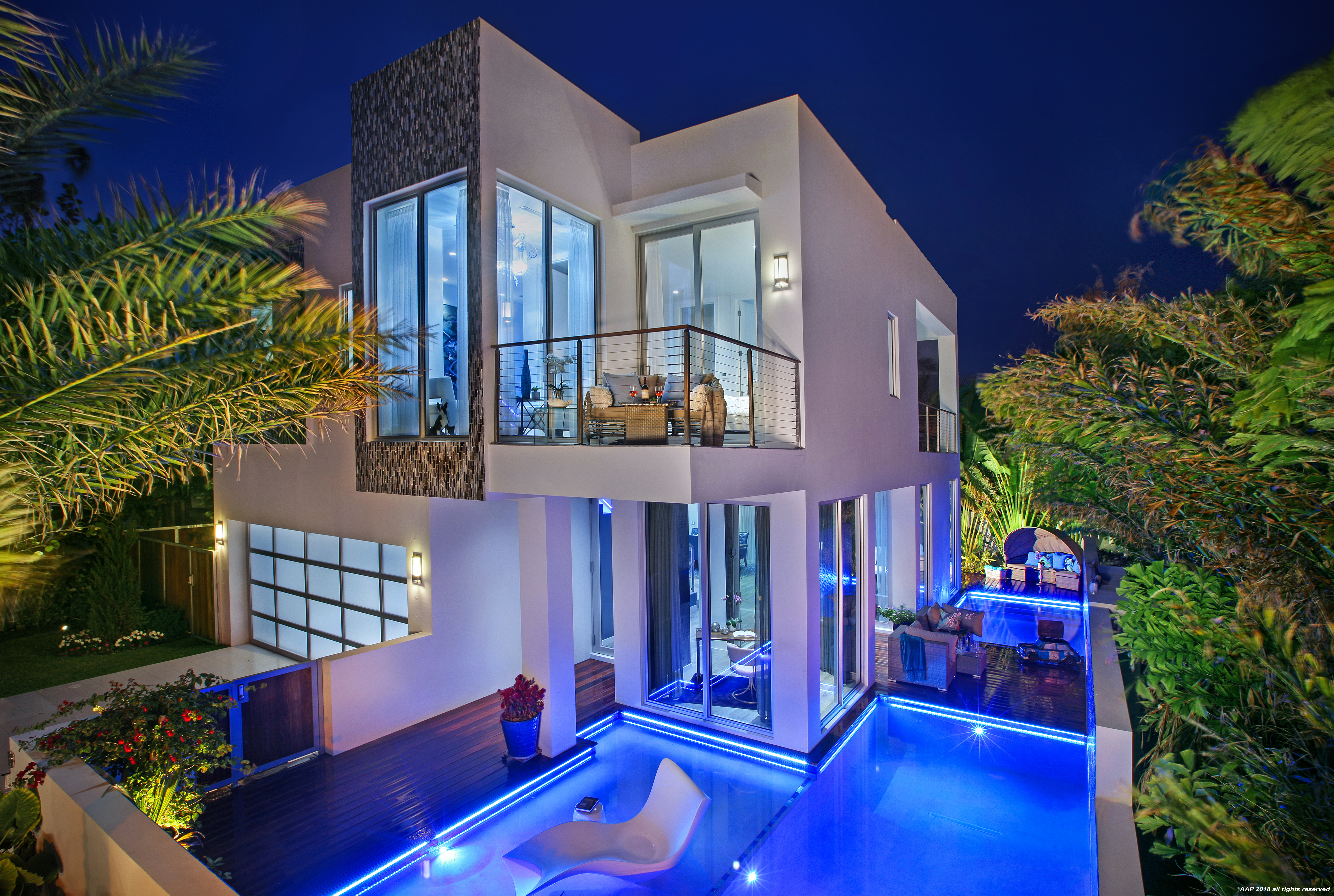 About Frank McKinney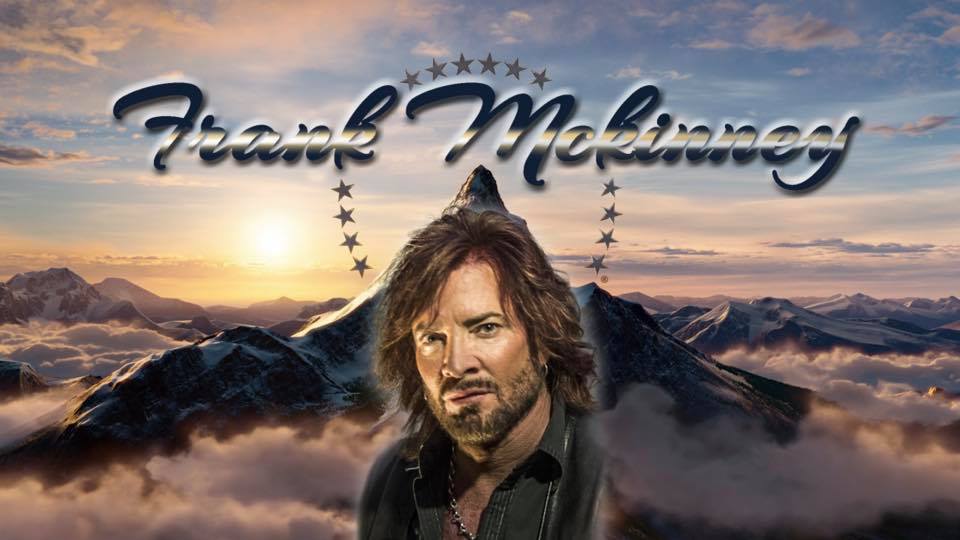 Frank McKinney is a real estate artist, six-time bestselling author in five genres, philanthro-capitalist, ultra-marathoner, actor and visionary who sees opportunities and creates markets where none existed before.
Always one to challenge conventional thinking, McKinney, with his signature rock star long hair, attended four high schools in four years, after being asked to leave the first three, and earned his high school diploma with a less-than-stellar 1.8 GPA. Then, with $50 in his pocket and without the benefit of further education, he left his native Indiana for Florida in search of his life's calling. It all started many years ago with a $50,000 fixer-upper home.
Since selling his first $2.2 million oceanfront spec home, he has created and sold 42 oceanfront properties with an average selling price of $14+ million. Thus, 19 Tropical at $2.65 million is a bargain!
The Frank McKinney brand continues to captivate the media and the public. His vision and risk-taking have been covered extensively, including Oprah, ABC's 20/20, USA Today, CBS' The Early Show, CNN, FOX, Discovery Channel, Travel Channel, HGTV, Wall Street Journal, New York Times, Fortune, and in over 2,000 additional TV and print stories.
Learn more about Frank's philanthro-capitalistic approach to life at http://www.frank-mckinney.com/about-frank/
See Frank on FOX News from Times Square in New York City where he shared a special message: http://www.foxnews.com/on-air/americas-news-hq/index.html#/v/5267022472001
Order Frank McKinney's bestsellers today!
The Other Thief (to be released 9.18.18)
Burst This! Frank McKinney's Bubble Proof Real Estate Strategies
Dead Fred, Flying Lunchboxes and the Good Luck Circle
Frank McKinney's Maverick Approach to Real Estate Success
Make it BIG! 49 Secrets for Building a Life of Extreme Success